When I lost my son, I wanted to talk to someone who gets it. Someone who's been there, who knows the individual challenges that come with losing a baby.

The feeling to live in a parallel world, the overwhelming emotions, the numbness and the loss of identity and purpose.

I tried baby loss groups, but as much as I loved the friends I've made there, they felt depressing.

I tried therapy and counselling and talking helped, but eventually, I was feeling stuck, like going in circles.

I wanted to enjoy life again, even though my baby died, but I did not know how to.
The Heal Your Heart After Baby Loss Program is specifically designed for women who lost their baby and want to enjoy life again, even though they don't know exaclty how that could look like.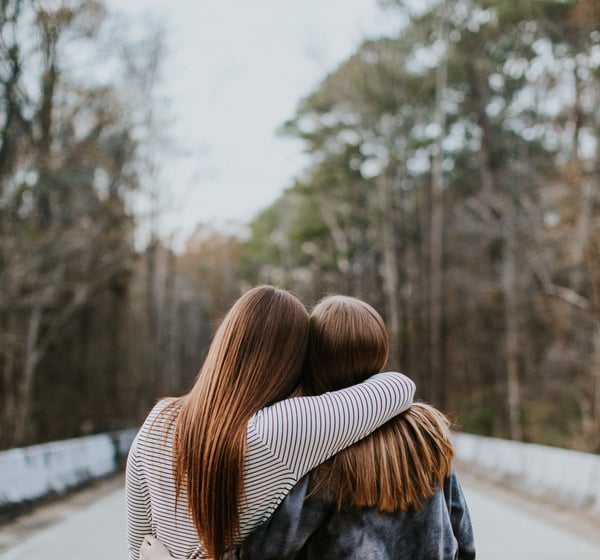 Does this sound like you?
People keep telling you how "strong you are" - But you aren't feeling so strong.

You feel stuck in your grief and don't want to stay there - But you don't want another depressing grief group and aren't sure what to do next.

You want to believe a better future is possible - But it's hard to imagine how without your person.

Maybe you are secretly feeling disempowered and disappointed by yourself and your life - But you also don't want to settle for the "new normal" you did not ask for.
If this sounds familiar, you're in the right place and working with me is what you have been looking for.
Hi, I'm Julia
In February 2016 I lost my son, Simon, in my 26 pregnancy week. I had a healthy pregnancy, but suddenly and unexpectedly I went into labour. 5 days later, I said in the room in neonatal care, with my dying son on my chest.
After Simon died I was overwhelmed and struggling to deal with my emotions, my thoughts and with my life being so different than I thought it would be.

I knew I wanted to enjoy my life and accept my experience, but I didn't know-how.

I struggled with my emotions, which often felt too overwhelming. I went from feeling numb, to complete, ugly crying breakdowns. I tried to be happy, but often it just felt like putting on a mask for everyone else.

I felt guilty, angry with the world, with my life, misunderstood and left alone by others and of course sad and helpless.

I developed unhealthy habits and behaviours to not feel and think about my loss. Drinking, smoking, eating, watching Netflix, partying, even studying, tidying.

In my life, I functioned. I went back to Uni, I met with friends, I did activities that were supposed to bring me joy. On the outside, I looked good, but on the inside, I still felt hollow. Purposeless. I didn't know who I am and what I wanted, anymore.

In the years since then, I discovered coaching and several helpful healing modalities that I wish I knew about when I lost Simon. I developed skills that helped me handle difficult emotions and thoughts.
I learnt to readjust my priorities, redefine my identity and figured out what I now want in my life.
With the Heal Your Heart After Baby Loss Program, I am teaching you the exact tools that helped me and many other women to heal from trauma and loss, as well as the tools that helped me grow and love myself and my life again.
In this program you will learn:
- to with your emotions like fear, anxiety, anger, guilt and more
-
We have made quality our habit. It's not something that we just strive for – we live by this principle every day.
Does any of this sound like you?
Are you often sad, disappointed, worried?

Do you feel disempowered and disappointed by your life or yourself?

Do you often feel alone in your pain and like nobody understands you?

Do you wonder who you are now (without your loved one in your life), who you want to be?

Do you feel like you are not allowed to talk about your loss, grief and struggles?

Are you living but inside feels hollow and empty.

Are you sometimes numbing yourself with alcohol, food or business to not feel or think?

Are your emotions and thoughts sometimes overwhelming you and you feel out of control?

Do think that other people expect you to be normal again.

Are you struggling with guilt, shame or blame and you are carrying around lots of anger towards yourself, other people or life?

Do you see your priorities in life are changing? Things that were important to you are not any more or the other way around?

Are you questioning the life you are living? Your job, your relationship, your friends?

Can I ask you a question? Do you always want to feel this way?

I know this is a really personal question and I know the answer is no. Noone wants to feel that way, yet sometimes we stay stuck
This is what life can look like instead:
You know how to deal with your emotions and intrusive thoughts.

You know how to release or deal with your triggers, so life and your emotions don't seem that scary anymore.

You are creating a future you love.

You are in a loving relationship and get the support you need.

The relationships with your friends and families are deeper and more authentic.

You are feeling healthy and energised
What is healing and coaching and how does it look like?
Healing and Coaching is a safe space.
Do I promise you this in the time frame of one session or 3 months? No, I believe in miracles, but I know that good things take time. What I am doing as a coach and healer is help you moving forward in a future where you feel whole and not heartbroken. I give you the tools to you need to move forward yourself.
Qualifications
Certified Transformational Master Coach (Health Coach Institute, USA)

Certified Health Coach (Health Coach Institute, USA)

Certified Life Coach (Health Coach Institute, USA)

Bachelor in Educational Science (Humboldt University in Germany)

Certified Teacher and Social Worker

Topics

Heal Your Heart After (Baby) Loss

Forgiveness for Self, Others and Life

Inner Child Healing

Shadow Work

Trigger Healing

Overwhelming Thoughts and Feelings (Focus on Teaching Tools)

Healing After Baby Loss Hypnosis

Relationship Coaching

Grieve to Growth

Health Coaching

Life Coaching

Don't know what you need?

Start with a FREE clarity call. No commitment.

How?

2 Options:

Single Session (paid after the session)

Single Session can look 2 ways: intuitive healing or pre-booked topic

12 Weeks Package: Individually designed to work on your Healing, Health, Relationship or Life Goal.

Testimonials

Pricing
Are you thinking about joining the GAGA LAB?
Complete this quick questionnaire and receive a free private Healing and Coaching Session where you'll get clarity on your next steps towards your personalized Healing and Coaching Journey.