When I lost my son, I wanted to talk to someone who gets it. Someone who's been there, who knows the individual challenges that come with losing a baby.

The feeling to live in a parallel world, the overwhelming emotions, the numbness and the loss of identity and purpose.

I tried grief groups, but as much as I loved the friends I've made there, they felt depressing.

I tried therapy and counselling and talking helped, but eventually, I was feeling stuck, like going in circles.

I wanted to enjoy life again, even though my baby died, but I did not know how to.
All my sessions and programs are specifically designed for women who lost their babies and want to enjoy life again, even though they don't know exactly what that could look like.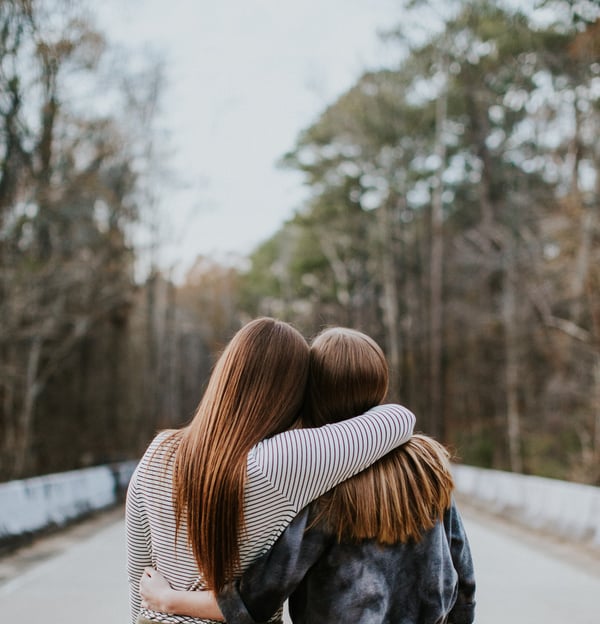 Maybe you're where I was, secretly worried you'll never be happy again.
But also not wanting to settle for a "new normal" you didn't ask for?
If this sounds familiar, you're in the right place and the Grieve and Growth After Losing A Baby Program is just what you have been looking for.
This might sound familiar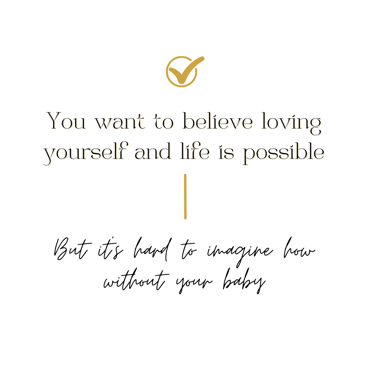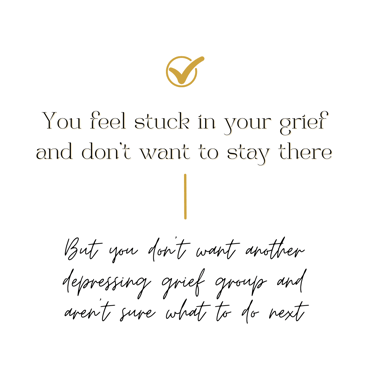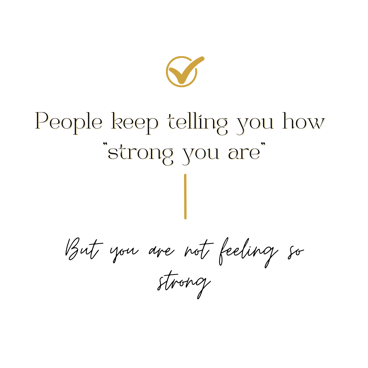 I like to start with a free first support call to hear your story and see how I can support you.
From there we will offer you a curated coaching program. Here is what you can expect from working with me:
Private healing and coaching calls
In these 1.5 hour-long calls, I'll share curated information and customized coaching exercises and tools that are GUARANTEED to accelerate your healing and growth, so you can learn to love yourself and your life again.
Done For You Material
This program doesn't exist to give you MORE IRRELEVANT information; it exists to give you CURATED information. What that means is that what you can expect is information that is relevant, practical and actionable to you, so you can stay out of overwhelming and in action. You will receive worksheets, audio recordings and guided tools, depending on your needs.
Email, Text and Voice Support
Between sessions, I am always there for support. I will check in on progress and give encouragement. We're communicating through an app and you can easily access all materials, messages and session notes through the Platform on your phone and on your computer.
What you'll learn
The 6 Pillars of Healing and Growth After Baby Loss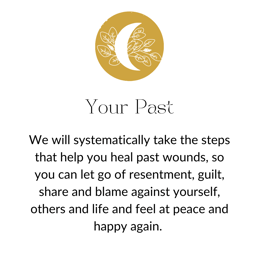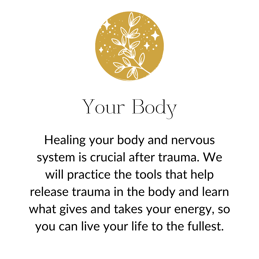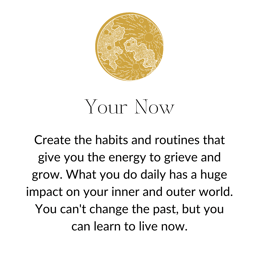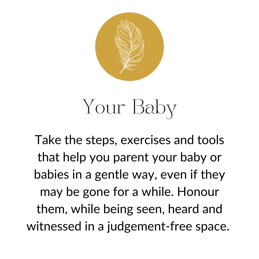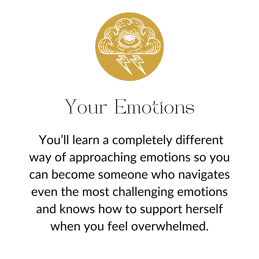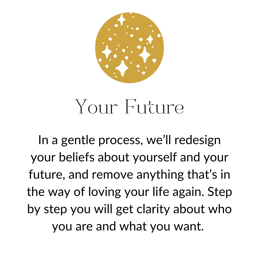 I can support you if any of this sounds like you:
Do you often feel alone in your pain and like nobody understands you?
Do you wonder who you are or who you want to be now, after the loss of your baby?
Do you feel like you are not allowed to talk about your loss, grief and struggles or like people have enough of it?
Are you living but inside it feels hollow and empty?
Are you struggling with triggers like seeing other pregnant women?
Are you sometimes numbing yourself with alcohol, food or business to not feel or think?
Are your emotions and thoughts sometimes overwhelming you and you feel out of control?
Do you think that other people expect you to be normal again?
Are you struggling with guilt, shame or blame, and you are carrying around lots of anger towards yourself, other people or life?
Are your priorities changing (things that were important to you become irrelevant or the other way around)?
Are you questioning the life you are living? Your job, your relationship, your friends?
You want to talk to someone who gets it and who doesn't pull me down with them but allows me to be where I am.
You want to rebuild your life and be more present in the now, with your partner, family or friends.
You want to create a loving connection with my baby.
You want to have clarity about what you want, in your relationships, in your job and in every area of your life.
You want to gracefully deal with difficult people.
You want to start to look forward to your future.
You want to know how to deal with your emotions and intrusive thoughts.
You want to know how to release or deal with your triggers, so life and your emotions don't seem that scary anymore.
You want to have loving relationships and get the support you need.
The relationships with your friends and families are deeper and more authentic.
You want to feel better, heal your heart and have more energy.
You want to learn and practice setting boundaries and expressing your needs.
Do I promise you this in a 3 Months Program?
No, I do believe in miracles, but I know that healing takes time.
What I am doing as a coach and healer is helping you move forward into a future where you feel whole and not heartbroken.
By you saying "YES" to this experience you are showing up for yourself in a whole new way, mentally, energetically, spiritually and physically.
This is the KEY to healing and loving yourself and your life. So is asking for support and being open to new ways of thinking.
You'll see from what's included in this coaching experience that it is designed to deliver an extremely high-level of loving support and the right tools, so you can heal and grow while acknowledging your grief and staying connected to your baby.
The Gentle Jumpstart
1 Month of Healing and Coaching
- 2 Private 1-1 Sessions (1.5h) -
- Support between Sessions -
- Valid for 1 month -
222 Euro
1 x 222 Euro
The Support Starter
3 Months of Healing and Coaching
- 6 Private 1-1 Sessions (1.5h) -
- Support between Sessions -
- Valid for 3 months -
- Welcome Gift -
444 Euro
3 x 188 Euro
The Premium Program
6 Months of Healing and Coaching
- 12 Private 1-1 Sessions (1.5h) -
- Support between Sessions -
- Valid for 6 months -
- Welcome Gift -
- Your own Meditation Recording -
777 Euro
6 x 155 Euro
Book a free call. From there we will offer you a curated coaching program.
Here are a few of the session packages that I offer.
I do offer a sliding scale option for those who require it. Let me know what you can afford. I prefer to work with you at a price you can afford than to lose your business and the opportunity to contribute to you, so please let me know.
Book Your Free Call Now, if you have any questions.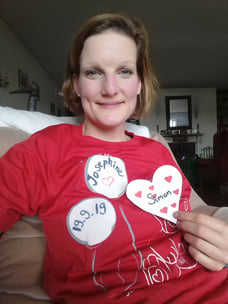 Antje
Mother of Josephine, born Sleeping 19.9.19
My name is Antje and I am Josephine's mum. Josephine died very unexpectedly in September 2019 when I was 7 months pregnant with her. ⁠
⁠
Before I started working with Julia, I felt that nothing was in my control anymore. I felt I could not live with this pain of losing my daughter. I have never felt such love, so I have never felt such pain. I was hopeless, angry and often very lonely in my grief, and COVID made this worse. I often questioned myself when people turned away from me. I put pressure on myself to 'be better' which made me feel even worse.⁠
⁠
Through Julia's support, I have started to change my perspective on how I can deal with these intense feelings and intrusive thoughts. I am looking less for people or things on the outside to help me, a process that was often disappointing and even destructive. Instead, I have started to trust myself more to be able to keep my head above water even when the storm is really bad. I also reassessed what healing means for me. I gave myself permission to free up the space and time that I need. I know this is my own journey. I often find it still hard to accept. But I know even when I break down, I have the ability to get up again with the love I feel for my daughter keeping me going. ⁠
⁠
I really like Julia's approach of working with different, practical techniques and tailoring the sessions to her client's needs. I like her calm nature and that I can trust her completely with sharing anything that comes up for me because I know she is also on the path of grieving for her son Simon. ⁠
⁠
I felt grief counselling was helpful in 'talking it through', but I did not feel it enabled me to deal with these intense thoughts and emotions when my counsellor was not present with me, and that's when they usually were the most overwhelming. Julia is very generous in sharing ways that have helped her and others to cope with this. She is supporting bereaved parents to grow, beyond counselling. So I would wholeheartedly recommend Julia to anyone who has experienced the crushing pain of losing their baby if they would like to feel hope again.